As I no longer own a BE-300, I will not be adding anything new to this evaluation.

Reviewed version: Version 0.9 build 7

BeShell was created by Denis I. Chetverikov (a.k.a. "Dic") from Moscow. He is also the creator of the aygshell.dll file which makes it possible for BE users to have and use a PPC menu.

Features

Custom-skinnable
Although there is no interface for easily manipulating hotspots, it is possible for those with a rudimentary understanding of a graphics editor, text editor and how to use coordinates to create their own skins.

Creating on-screen hotspots
Just tap and hold, then tap Add Item... Browse to the application you want to add, then tap OK. Drag the icon to wherever you want to place it. Tap and hold the icon to remove it, move it, alter its properties or select between a large or small icon.

Title bar changes with the application that has the focus.

Task bar can be easily toggled between the top and bottom of the screen.

Always on status display shows how much memory if left and the amount of battery power that remains.
*This feature depends upon the design of the skin being used.

Support for many Pocket PC applications, including:
• Calligrapher 5.3
• WinamPAQ for MIPS


Caveats (Things to watch out for)
Connecting
When connecting your BE to your computer, BeShell uses ActiveSync by default. To date, I have not found a way to disable this. However, if you create a hotspot for PC Connect and then tap it as soon as you place your BE into its cradle, this seems to work around the problem nicely.

Synching
You may find it necessary to uninstall then reinstall PC Connect. My experience was that until I did this, I could get a connection, but my information would not synchronize between my PC and my BE.

Incompatibilities
Windows Media Player will not function with BeShell. After having used eXpod for so long, I'd taken for granted that Windows Media Player (versions 1.1 and 7.1) worked on the BE. This is not the case with BeShell. However, the combination of WinamPAQ and Pocket TV is a very satisfying substitute.

Conclusion
This is a very good and very stable operating system for your BE. I have had no problems with it once I discovered how to work around the aforementioned quirks.


Download BeShell

(v0.9 b7)
Download the PPC2003 skin
Download the Windows XP skin (Updated 22 Aug 2003)
Available Skins
| | | |
| --- | --- | --- |
| | | |
| | BeShell with PPC2003 skin | |
| | | |
| | | |
| --- | --- | --- |
| | | |
| | BeShell with Windows XP skin | |
| | | |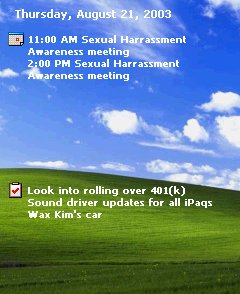 The Windows XP skin features a system tray that can be hidden when it's not needed.